Depending on where you attend medical school, you may or may not be required to reach out to your upcoming attending physician before starting a new rotation. Generally you are asked to do this via email which seems simple enough, but what information should you include?

Keep it short and simple!

Simple, formal, documented, and easily located for future reference. Here is our basic template:
SUBJECT: 
Incoming [X] Year Student | [Feb 1st]

MESSAGE:
Dear Dr. [X],

I am writing as your incoming [Third Year] medical student scheduled to start on [Wednesday, February 1st].

I am excited to start my [Pneumonology] rotation with you, especially since I can expand on the inpatient exposure I previously had on [Internal Medicine].

- Could you let me know when and where you would like to meet on the first day? 
- Could you also let me know your preferred contact information/method? 
- Finally, is there anything else specific that you would like me to have reviewed or brought with for the first day?

I can be reached by cell (texting/calling) at [555-555-5555] or by email at [first.last@schoolemail.edu]

I'm looking forward to working with you,
[First Last]
Although you likely have a litany of questions not listed above, it is largely safe to assume that you can wait to ask those in person. On your first day, go a little over the top: dress clothes, stethoscope, white-coat (yeah, I know), etc. Even if this ends up being one of the lovely rotations with daily scrubs, starting off with your best foot forward will do nothing but help you in the long run.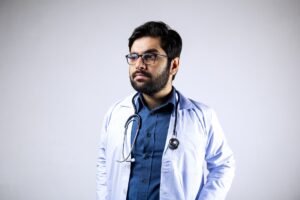 Chances are your attending physician has been through this before so they likely have a well prepared script they run through with students at the start of each rotation. As you work through your first day, jot down any remaining uncertainties and circle back with your preceptor at the end of your shift.
Hope this template helps!